Q1 prices in the Seattle-Eastside region have escalated yet again with no sign of slowing in the immediate future. An unprecedented lack of inventory for sale coupled with rising interest rates has prompted buyers to compete with reckless abandon to win the prize of their very own home, albeit with a steep price tag.
Overall median prices in Seattle rose 16.1% to $770,000, while the Eastside rose 13.0% to $944,000. Those regional numbers certainly don't tell the whole story, especially when you consider the highest change in median sale price was nearly 46% and the lowest was a -4%. New construction sales, or lack thereof, made the biggest impact on home sale prices. Existing homes, offering good walkability or commute options, and those that were on the more affordable end of the pricing spectrum saw the strongest appreciation overall.
Rising mortgage interest rates, now up a full percentage point from their lows, are adding fuel to the fire. While not dampening buyer demand yet, further increases will likely begin to price home buyers out of the core Seattle-Eastside region. Homebuyer fear of being priced out of the market is at least partly to blame for the crazed demand at more modest price points.
As predicted, many who don't have a need to be close in to the metro region are choosing to sell at a high and buy more affordably outside of the Seattle-Eastside area. The rate of tear-down new construction infill has escalated at staggering numbers as builders capitalize on the market's appetite for fresh and new.
Buyers today should consider their purchase thoughtfully as buying at or near the peak of the market can limit their resale options when the market corrects. Planning to stay put for five to seven years is a good strategy at this time.
SEATTLE
West Seattle leads the pack in median home price growth on the Seattle side of the lake. With its vibrant, hip vibe and convenient access to the city, West Seattle has benefited from Seattle's commute gridlock—maintaining status quo while other Seattle neighborhoods have come to a halt (literally).

Queen Anne saw a nice rebound in Q1 after lagging the Seattle averages for some time. South Seattle, with its light rail access, affordable prices, and new vitality, continues to see its real estate market thrive.
Click here to view the complete report for a neighborhood by neighborhood breakdown of Average Sale Price, size, and number of homes sold.

EASTSIDE
Significant new home development at higher price points has led the market in West Bellevue and Kirkland and brought up everything else along with it.

With land values alone higher than average home sale prices in surrounding communities, this growth will have long-lasting impacts that will forever change the flavor of these communities–for better (fresh new housing stock) and worse (the lack of affordable options). Kirkland led this charge with a median sale price 45.9% higher than Q1 last year, followed by West Bellevue at 23.1%.
Click here for the full report and neighborhood-by-neighborhood statistics!
MERCER ISLAND
Overall, a much higher percentage of mid-range homes sold in the first quarter than in quarters past, giving the appearance of falling prices. In reality, however, it was actually a downward shift of the segment of the market that is selling.

Don't let the negative number for Q1 fool you. The market below the two-million-dollar mark is vastly different than the market above it. With the most severe shortage of available homes in mid-range price points Mercer Island has seen, especially early in Q1 this year, the sub $2 million market has been brisk and competitive with strong price escalation. The $2 million and above market has been a different story altogether. While highly desirable homes in that bracket have transacted quickly, many other less notable homes have languished on the market.
Click here to view the complete report for a neighborhood by neighborhood breakdown of Average Sale Price, size, and number of homes sold.

CONDOS – SEATTLE & EASTSIDE
Still the only affordable option for many home buyers today, condos have continued to escalate in value with appreciation rates above those of residential homes in many areas.
On the Eastside, new condo and townhome developments in Crossroads and Rose Hill drove prices up to new highs in those communities. Richmond Beach and Shoreline benefited from an infusion of new construction standalone condominium 'homes' on very small lots.
Check out all of these factoids and more in the full condo report.
WATERFRONT
Several significant sales accented an otherwise unremarkable quarter. A $26.8 million iconic Medina estate on 2.5 acres with 150 feet of waterfront set a new benchmark on the Eastside. Two $8+ million homes on the north end of Mercer Island–both newer construction with over 7,000 square feet–set the tone for the Island in 2018. Lake Sammamish, with a $4.2 million sale in Q1, is still in hot demand, while Seattle saw only three modest waterfront sales.
Check out the full Waterfront Report for a complete list of waterfront home sales by address and community.
---
ABOUT WINDERMERE MERCER ISLAND
We earn the trust and loyalty of our brokers and clients by doing real estate exceptionally well. The leader in our market, we deliver client-focused service in an authentic, collaborative and transparent manner and with the unmatched knowledge and expertise that comes from decades of experience.
© Copyright 2018, Windermere Real Estate/Mercer Island. Information and statistics derived from Northwest Multiple Listing Service and deemed accurate but not guaranteed.v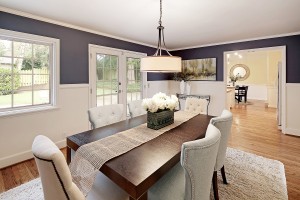 I've been honored to work recently with two clients who wanted to sell their rambler style homes on Mercer Island. I've fallen deep for this kind of home. Ramblers possess good flow from room to room, supporting the ability to reside in casual elegance throughout all the spaces. Ramblers on Mercer Island often have vaulted ceilings, which give such an airy feeling to the main living areas. And the generous windows bring in so much light. This light, it's the icing– it makes the rooms feel warm, inviting and homey.
I'd like to share with you a bit of history about this style of house. It's pretty fascinating, especially since the popularity of one level living is quite high again in our current housing market. I think it is so cool how what was in vogue over 50 years ago has gain so much appeal again today.
The one-level living of a rambler, or ranch-style house, was all the rage for over 40 years, from the 1930s to 1970s. Ramblers were often nestled into tract-style suburban neighborhoods, ready for returning WW2 and Korean war veterans and their newly formed families. Casual living coupled with an outdoor connection to a private backyard space were the cornerstones of rambler homes. Two car garages became the suburban standard for these homes, as workers commuted by car to work in nearby metro areas.
Both the Prairie Style homes designed by Frank Lloyd Wright and the casual pre-WW2 Bungalow style influenced the design of the rambler. Architect Cliff May is credited with building the first rambler home in San Diego, CA back in 1932. Due to the simple nature of the house design, where three key principles of livability, flexibility, and unpretentiousness were reflected in the plans, the rambler was both economical to build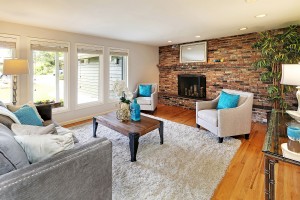 and purchase. Decorative finishes were kept at a minimum. This low-key mindset evolved into the sleek, modernist vibe of the mid-century modern rambler that took hold of the new construction scene during the 1950s and 1960s.
With the rambler's roots planted in sunny California, the thought process behind the design was to let in much natural light and establish a notable connection to outside. The use of large sliding glass doors that led to a backyard patio is a standard element of a rambler. This style was the first widely-produced design where the outdoor space was considered part of the home.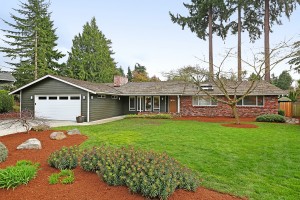 The home design's connection to nature has helped contribute to the resurgence of popularity of the rambler for today's homebuyers in our region. 1st time homebuyers with growing families enjoy the outdoor spaces included with the home, and are drawn to the cool mid-century aesthetic so many Seattle area ramblers possess. Downsizing Boomers like the one-level living option ramblers provide that will support aging-in-place. Ramblers have minimal stairs, with most (to all) living areas residing on the one level.
I love how the generous lots ramblers are situation on provide the space to add shed-style small spaces that are so popular right now. My new mid-island listing on Mercer Island has a playhouse shed my clients converted into a meditative workout spot. They call it the "Zen den." How neat is that?!
Now it's your turn. If you love the rambler style home as much as I do, let me know what parts of this design style grab you the most. Please share in the comment section!
Photo Credit: Tucker English